Relocation Case: Large production line to China.
We buy and sell used IC production equipments, and undertake the international trading business. We also offer the service of relocation of the entire IC production line for the customer.
In Februay2015, we received the order of large project in which the entire IC production line was relocated to Chinese manufacturer the first time.
In order to execute this project, We spent over one month to investigate the specifications and characteristics of the large and small neary 200 equipments, and to understand the difference in standard between Japanese and Chinese manufacturing factories propery. Only after the completion of this preliminary resarch, we undertook the project by appointng the personnal, detailing the schedule, obtaining the necessary tools, determining the schedule of dismantling and carrying out, developing the counter measure for the job safty and finally arranging the boarding facilities for the personnal.
Scope of the project and the schedule
1.Dismantling
Over 200 equipments such as Ion injectors, steppers, diffusion furnaces,CVD/PVD and testing apparatuses. The dismantling started on March 16 and ended on April 9.


2.Packing
Pack the equipments with rappings and air-cusions so that the machines could be isolated from the air outside.Put the markign on the pointed parts for caution. The dismantling started on March 27 and ended on April 15.


3.Carry Out
The machines are carried out from the housing with at most caution not to damage, and at the sametime keeping the quality and condition of air cleanness of the clean room. The task was started on March 27 and ended on April 23.


4.Transfer
The 10t air-suspension trucks were chartered for the transfer of 61 equipments. The task was started on March 27 and ended on April 23.


5.Packaging for the shipping
Vacume barrier and closed wood(wooden fram + pannel) packaging ware used. The task was started on March 29 and ended on May 30.


6.Exporting
Through the process of the charter of containers, loading and lashing, making the documents for exporting and the custom declaration, the machines are shipped to Ching Tao China. The first shippment was started on April 30 and the 9th shippment was ended on June 29.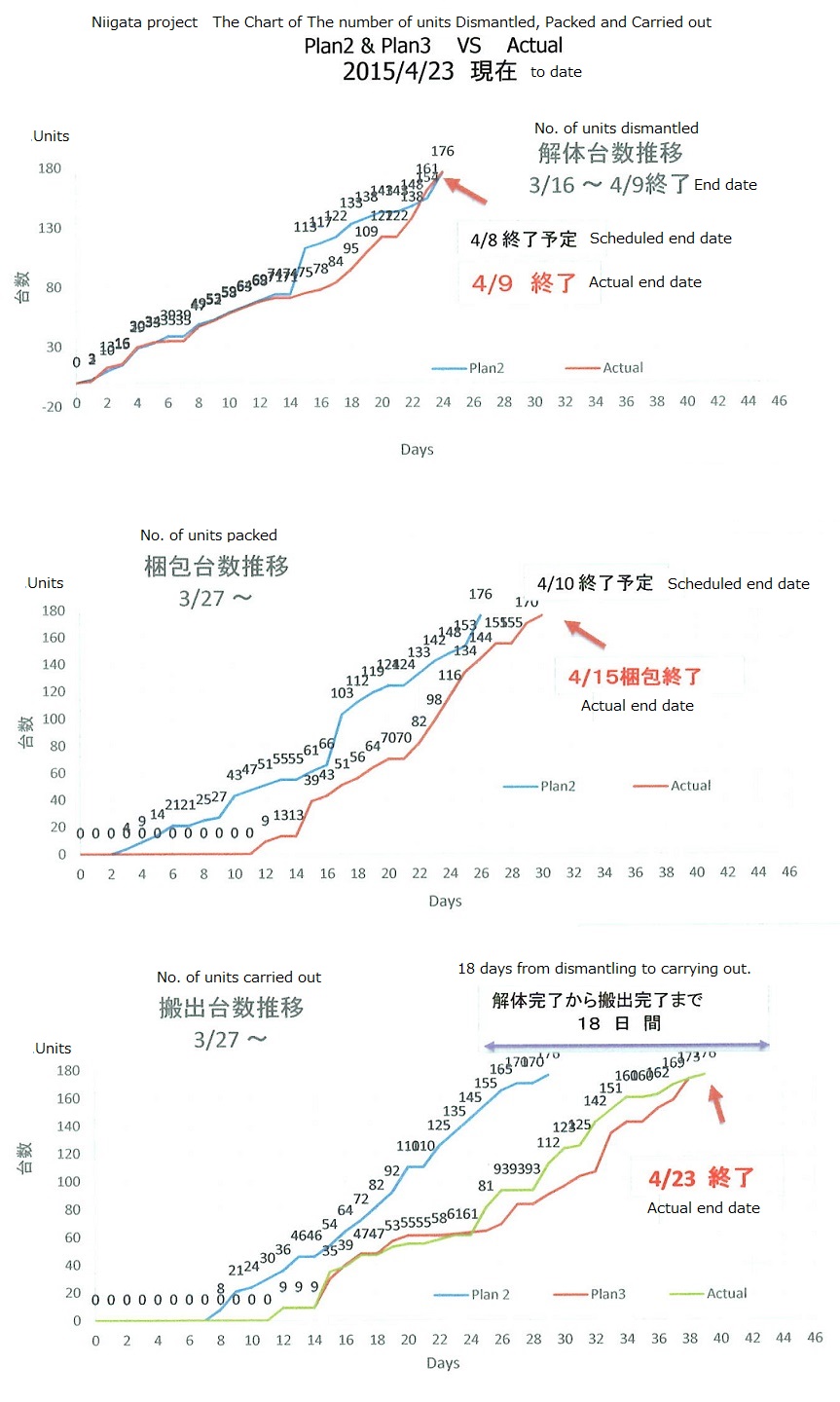 The project team was consisted of the administrator, the chief engineer, the specialists and engineers, sales representatives, the management stuffs and the supporting stuffs from sevral relating corporations. Over all, about 20 to 30 engineers and specialists took part in this large project daily.
The project was completed on June 29 as scheduled initially. We received the gratitude and the word of thanks from the customer with full of smile on their faces.
We continue our best effort to meet the demand and expections from the market by expanding our area of services, increasing the number of project manager and keeping the close contact with the customers.